Team "2 under 2 club"
Team Angle Al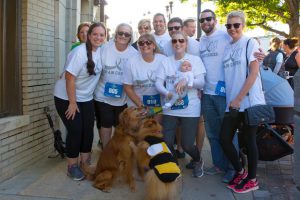 Team Baker Donelson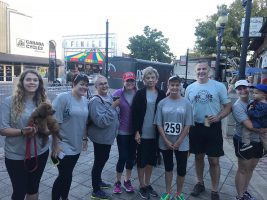 In support of patients, survivors, friends and families of those battling brain cancer, especially in memory of our friend Chase Walton and the father of our partner David Maron and his sister and race founder, Dr. Rhodemarie Maron, and in support of all the work and research at the departments of Neuro Oncology at both UAB and Children's of Alabama.
Team Brain Busters
Team Brian Lee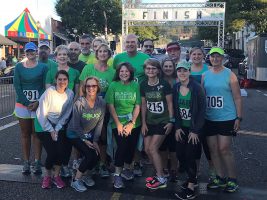 In honor and memory of Brian Lee – he would want to thank Rhodemarie for organizing this event – it would make him very happy to know everyone here showed up to support those with brain cancer and to bring awareness to brain cancer
Team COTR Counselors on the Run
Team GI Jeff
Running in memory of a real American Hero – Master Sergeant, Jeff Skinner who passed away earlier this year after a long, brave battle with brain cancer, surpassing his diagnosed life expectancy. Dr. Nabors and his medical team were amazing throughout Jeff's battle, but it was God, the ultimate physician, that is the only explanation for all of the odds Jeff defied. Jeff was a brave man who served and fought for his country. A man who loved God and loved his family. He also loved to make people laugh and did not miss an opportunity. Today, we run to celebrate the life of this amazing man and to help put an end to brain cancer once and for all.
Team Gray for Gary
Mr. Gary Peters, a loving husband, father, and friend, has been fighting glioblastoma since January of 2016. Gray for Gary was created to honor Gary's fight and to pay tribute to all those whose lives have been affected by brain cancer. "Team Gray for Gary was unfortunately unable to be here today due to the loss of a loved one, but wishes to encourage all others here today."
Team Greg's Squad
Team Grey Matters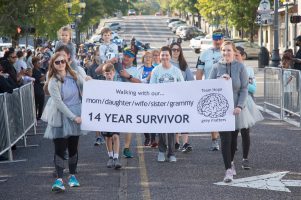 Team Heart and Sole
As first time participants in this 5k, family and friends of Peggy Kelley make up team Heart and Sole. They run in honor and by her example, with all our heart and soul.
Team Hey Mon Let's Run for Brian!
Team Lucy and Ruby's Brainy Day
Team Michelle's Mission of Hope
Team Mit H
Team Neuro ICU Peeps
Team Novocure
Team Running for Red Beard
In memory of devoted husband, father, son, brother, and teacher Chris fine, who passed away on March 19, 2015. He participated in the inaugural Blazer Bolt in 2014.
Team Spencer's Sprinters
Team AHI (American Health Imaging)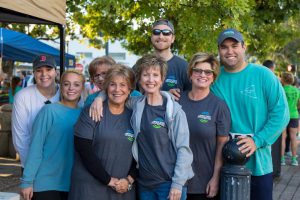 Is the family and friends of American Health Imaging who are dedicated to fight against brain cancer and support of all who are affected by cancer.
Team Andrew
Running on behalf of the amazing brave son of Mr. and Mrs. Famobrough, a 9-year-old fourth grader who had an unknown diagnosis after many symptoms until an MRI of the brain showed that Andrew had a brain tumor an ependymoma, in part of the brain that was obstructing normal spinal fluid flow. He underwent surgery and 30 radiation treatments and has remained cancer free!! The Fambrough Family has coordinated the pep band you will enjoy out on the course.
Team David
In memory of a man who bravely lived during a long battle with recurrent brain cancer.
Team Debra
Team Grudie
"This team is a nickname for my sister, Gretchen Dukes. October 21st, race day, will mark exactly seven weeks from the day our "Grudie" was first diagnosed with having a glioblastoma. Our family's world has been rocked to the core. But Gretchen has remained so courageous throughout these weeks, bravely facing surgery and now her radiation and chemotherapy regimen with grace, humor and her usual zest for life. We are so proud of my sister, who is also a treasured wife, mother (of 5 amazing kids), daughter, friend, and tireless volunteer. We are running this race specifically in tribute to Gretchen. But we are also running this race in support of all of the medical personnel and researchers serving on the frontline of brain cancer and in honor of all of the individuals, like Gretchen, who are bravely fighting brain cancer and striving hard to better the odds for everyone!"
Team Hjelmeland
The Hjelmeland laboratory is dedicated to finding new ways to treat glioblastoma and is running in honor of all the brain tumor patients and their family members who participate in research to help find a cure.
Team Hope
The A-Team
In honor of Austin Brown, a wonderful husband, and father of two little ones, Slaton and Mary Austin, whose family helped start the Neuro-Oncology Research Acceleration Fund
Team Highland Hellions
The Unit
Our team want to wish my dad a Happy Birthday! And we wanted to look good as a Unit supporting brain cancer research at my mom's alma mater.
Team Thumbs Up For Whitney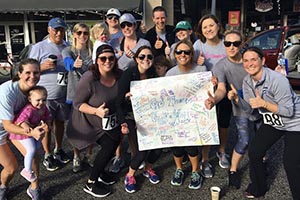 Team Tonic Clonics
Team Williams Family